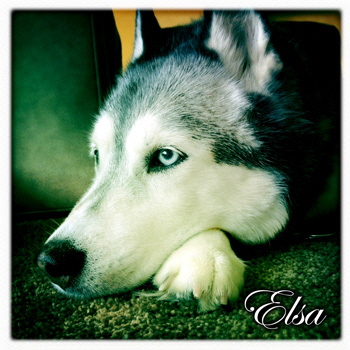 Elsa's Story, as told by her former owner Madeleine
I was living in Connecticut in 2003 when my boyfriend and I decided to adopt a dog. Bob had his heart set on finding a husky and managed to make friends with the man who ran the local husky rescue association. Even though there was a long wait list, we ended up getting called first when Elsa needed a home. We met her in the parking lot of a K-mart, where she was unceremoniously dumped out of the car by the family that had adopted her from a shelter only two weeks prior. It hadn't work out - apparently Elsa and their terrier hadn't seen eye to eye about who's food belonged to whom. We knew that Elsa had bounced around families and shelters a few times already in her first several years, and we were certain that we would be people to give her a stable, long-term home.
As Elsa's former caretakers drove away, I remember looking at the dog that was now my responsibility and wondering who she was. Eleven years later, I can tell you that that she was funny, sweet and smart, grouchy, neurotic, needy and independent by turns. She had the softest ears. She loved to get her tummy rubbed, was terrified of thunderstorms, and ate absolutely anything that remotely resembled food. She had strong opinions about which direction a walk was going to take, she liked being around other dogs in an aloof, too-cool-for-school sort of way, and was curiously sentimental about cats. She liked to hold hands when she was tired. She was a good mother to a series of stuffed hedgehogs, tucking them carefully in her bed at night and carrying them with her when it was time to go outside.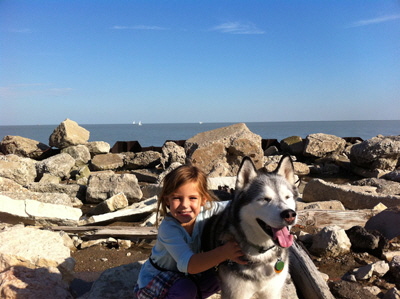 She was afraid of the smell of cooking lamb. She loved boat rides but couldn't swim. She wound up with many nick names through the years - Mrs. Snarfle-Bottom was probably the most enduring.
Elsa had a knack for knowing when her people needed to sink their fingers into her deep soft fur and nuzzle against her soft ears. She helped me along through difficult times, getting me out for walks and making me laugh with her crazy antics. When eventually I began a relationship with my husband Brad and his young daughter Alexa, Elsa adopted them both as her family and took the transition in stride.
A few years ago, Elsa started to deteriorate mentally. She was the same beautiful, healthy dog on the outside, but on the inside she was becoming more and more anxious. She developed severe phobias about innocuous things like open windows and would pace back and forth endlessly. She began to startle easily at loud noises and sudden movements and had become even more food aggressive. It became increasingly difficult to manage her environment with a small child in the house. One day, Alexa and her friend were playing and startled Elsa, and she lashed out and bit the other child on the hand. It wasn't a serious bite, and I think Elsa was just as horrified about it as anyone. But it was enough to make me realize that I couldn't keep Elsa anymore, not after I could no longer trust her around Alexa.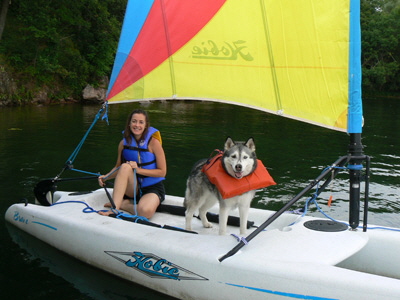 I spent several unhappy weeks calling around to all of the animal rescues and shelters I could find, but no one wanted a 13+ year old husky who had just bitten a child. I had all but given up when Peggy contacted me. Someone at one of the shelters that I had emailed had passed along my note. Peggy was unfazed by my disclosure of Elsa's anxiety and recent bite history and she invited her to come live out her remaining days at HAL. As heartbroken as I was about having to give her up, I knew that HAL was absolutely the best situation for Elsa that I could hope to find.
Elsa lived with Peggy, her family and the animals at HAL for a year and eight months - the last sweet chapter of a long, full life. I am so grateful to Peggy, Mark and Meg for taking her in and caring for her, for getting to know her in all of her quirky glory. Last week, Elsa had a stroke and died with her HAL family by her side. She was a lucky puppy all the way to the end.
Home At Last Animal Sanctuary
P.O. Box 744
Forest Lake, MN 55025
EIN: 46-3932300
©2013 Home At Last Minnesota