How It Works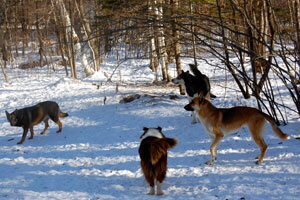 HAL combines two basic frameworks in order to meet the needs of a dog. First, the dogs are always allowed access to wide open spaces surrounded by 8 foot high fences in which to run, walk, chew bones, play tag or simply be. Other than for health or acclimation reasons, no dogs are confined to small spaces. There are no kennels at HAL. All of the dogs have constant access to a large insulated, heated building lovingly called the dog house. The dog house has furniture, blankets, toys, and a heated floor to provide comfort and fun 24 hours a day.
The concept of the "dog park" was our inspiration after seeing the benefits to dogs that have the chance to run with abandon. HAL has seen many dogs turn from snappy and fractious to content, cheerful dogs simply by having constant access to exercise. Interestingly enough, the older dogs seem to benefit tremendously also from the exercise, as their old muscles strengthen to support joints; their hearts get a little stronger as well.
The second framework is of the family home. A family lives on the site, and all of the dogs have access to the family home. Each dog receives whatever physical attention he or she wishes and is allowed to sleep in close proximity to their new human family. It is not uncommon for the floor to be filled by dogs sleeping side by side so that they can be in with the family. Dogs with separation anxiety are particularly benefited by this structure and seek contact enthusiastically. Feral dogs can take the time necessary to watch and learn from afar, without fear of being cornered or hurt. In short, HAL works by allowing dogs to be dogs! The pack structure works like a wolf pack structure, with the humans as the ultimate pack leaders. The pack leaders establish the rules of interaction and do not tolerate transgressions. Dogs feel a sense of relief to hand over the reins to their human leaders!
HAL's Staff
HAL utilizes a mobile veterinarian who drives a van fully equipped with a surgical suite onto the property, where all necessary care and treatments are provided. Some of HAL's dogs have been labeled as "potentially dangerous" by Animal Control agencies, so are not allowed to leave the grounds. Utilizing a veterinarian who can make dog house calls makes it possible to provide a loving home to these dogs. Medical records are maintained on each and every animal at the sanctuary. In cases where additional veterinary assistance is needed, HAL has an excellent network of veterinarians with whom we work.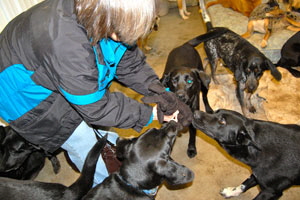 Non-Profit
Home at Last is a 501(c)(3) tax-deductible organization operated completely by volunteers.
All donations made to HAL are 100% tax deductible. Donations of money are spent on food, veterinary care, facility maintenance and improvements, medicines, transportation, grooming equipment and products, and bedding for the animals.
Currently, there are no paid staff at HAL but our goal is to fund a paid staff position in the next few years.
Adoption
HAL does not adopt out any animals. The animals that come to us have been through sufficient trauma and transition that the decision to accept them into the HAL sanctuary means sparing them from the alternative (euthanasia) and letting them live a long life with us. HAL works with many rescue groups to provide options for people in search of an animal to adopt.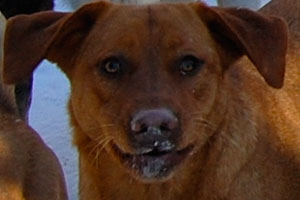 Visiting HAL
Visits to HAL are extremely controlled and by special appointment only. Because many of our dogs have been traumatized by humans, and some of the details evade us, we cannot predict how some dogs will react to strangers. Visitors must agree to refrain from engaging in play or in correction for the safety of both dogs and humans. That said, many HAL dogs may greet visitors boisterously and affectionately. Every effort will be made by HAL caretakers to ensure safety and comfort on the part of the visitor. We encourage patience and a sense of humor when meeting HAL dogs since they have come from every imaginable history, and we welcome, instead of discourage, loving effusive contact with people.